Last night we all played some rounds of pool at the RV park in Cleveland, Texas. A 13-year-old kid named Wyatt who lives at the RV park watched for a while and then asked if he could join in. Turns out he was a pool shark and Kevin almost lost the RV to him in a bet. We saw Wyatt again in the morning and he was very curious about our bikes and how we do all the riding. It was fun to explain it all to him and get him interested in what we are doing (the very mission of Roads to Giving–getting more kids on bikes).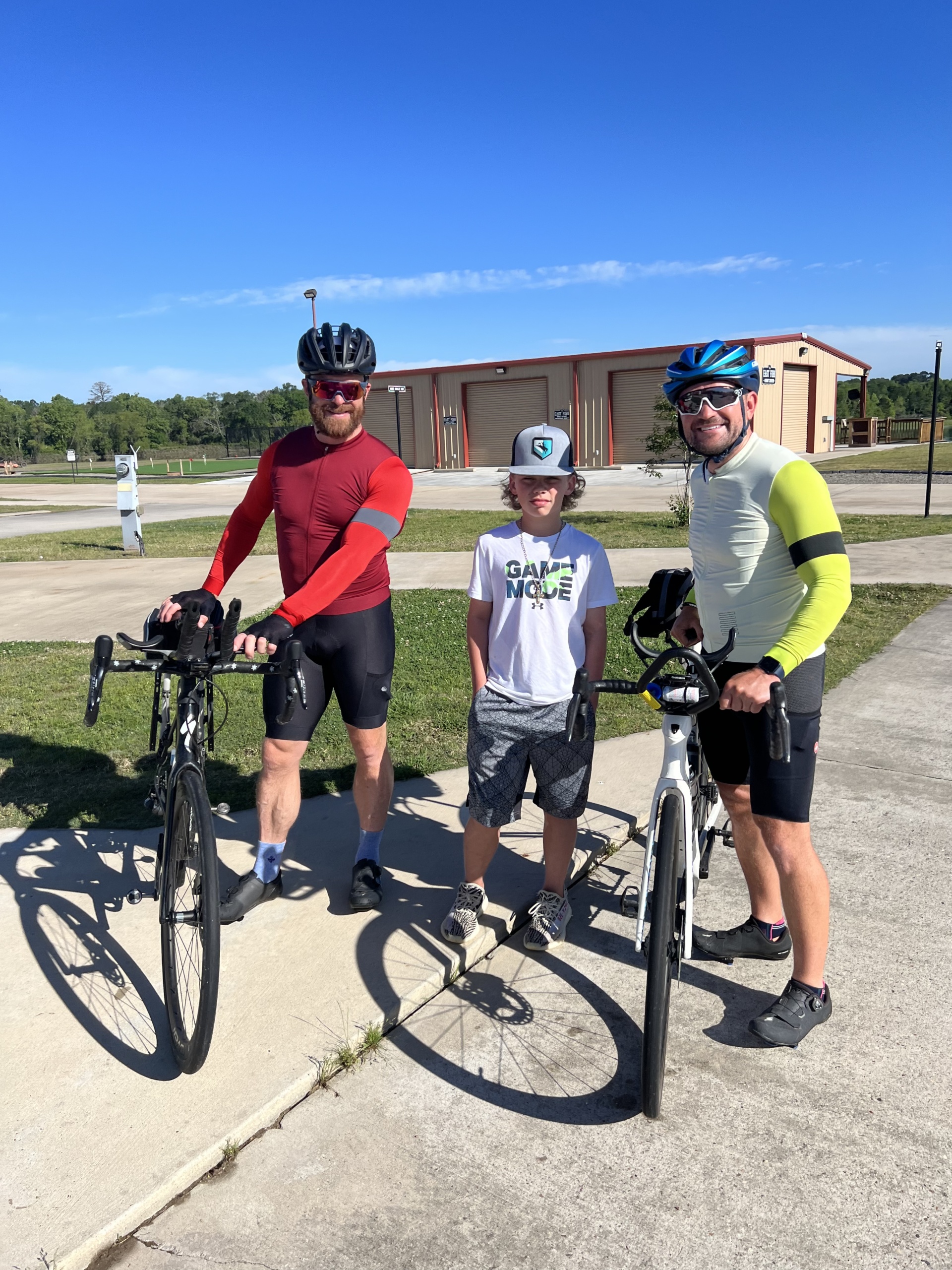 Although it was great to hang out with Wyatt for the short time that we did, it certainly makes me miss Eli and Ivy (my two kids). I can't wait until I get to see them again.
We said our goodbyes to Kevin, Tom, and Wyatt set out for Port Arthur, Texas (pronounced Port Art-Ter). For those paying close attention, that city was not on our original itinerary. Cycling coast-to-coast takes a serious amount of planning. It took over 1.5 years to finalize all the details of this trip and countless people helped with the planning. About four days ago Kevin asked why are riding north of the Gulf Coast when it looked like there were roads that we could ride along the coast. So, we started considering a detour from the planned route to a modified route (planned pictured first).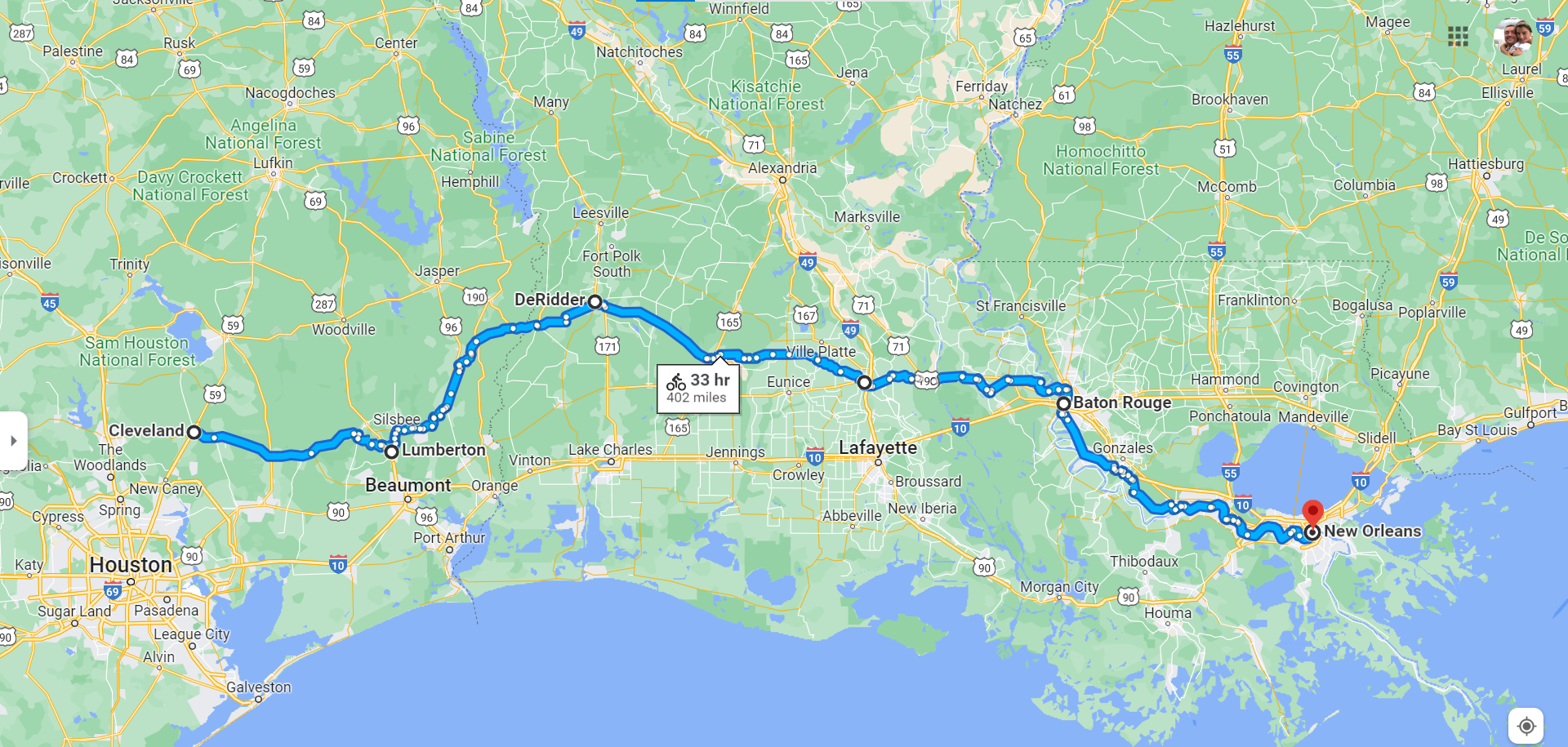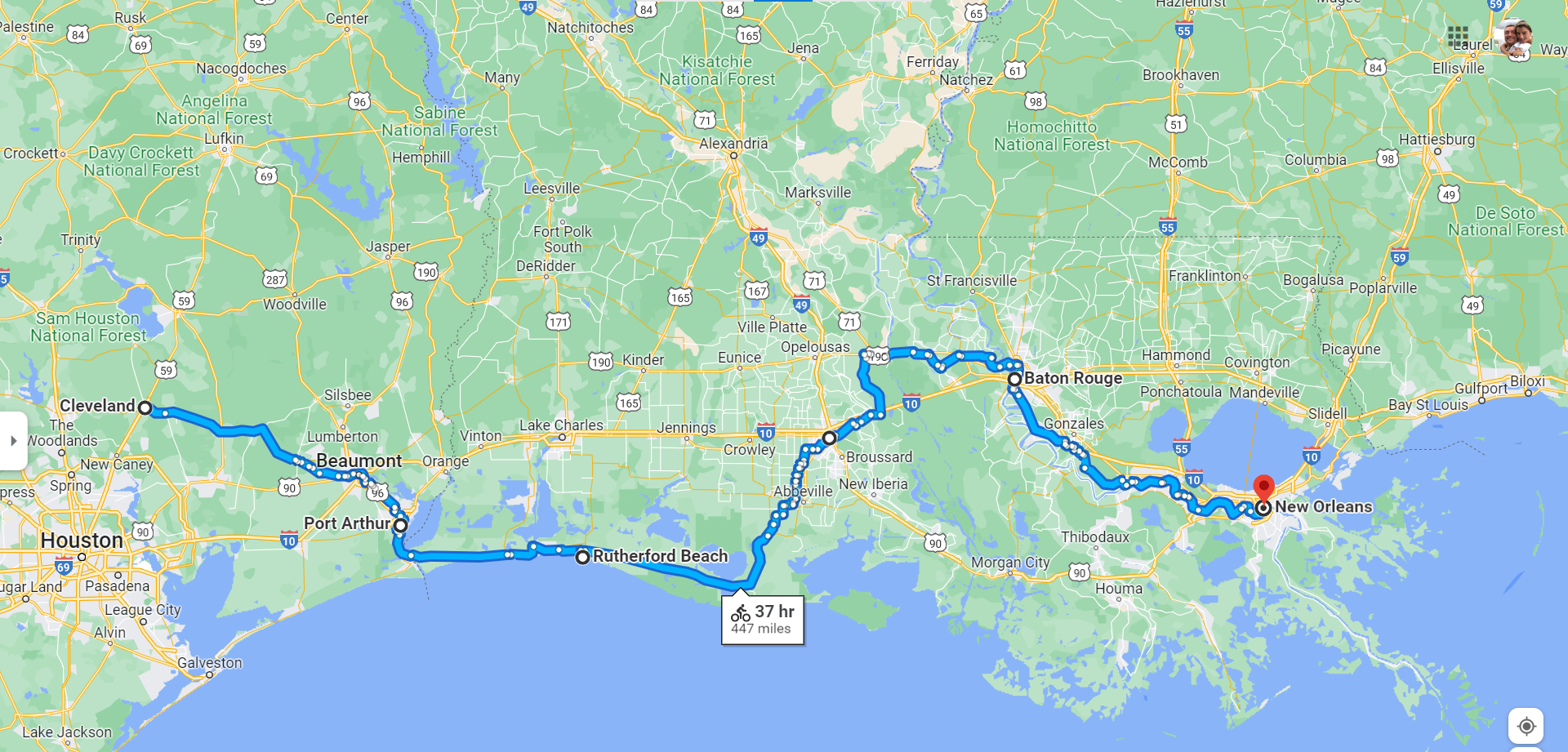 It added 45 miles and a 0.2-mile ferry ride (for us and the RV), but the reward was Rutherford Beach, where the RV could actually park on the beach. We all agreed it was worth trying to make this alternative route work.
We woke up ready to make it to Port Arthur with the plan to make it to Rutherford Beach the next day. However, the ferry was down with mechanical problems and no estimated time of repair. Without the ferry, there is no way to go from Port Arthur to Rutherford Beach without a 100-mile detour. We all decided to head to Port Arthur anyway and hope the ferry would be fixed by the next day. The RV arrived at Port Arthur and got all setup. We made it about halfway to Beaumont, TX and took a break at a gas station to refill water and snack. A local automotive parts courier saw us and asked about our bike ride. We told him about our plans, and he said the ferry had been down for days. Uh oh! Time to reroute.
We called our support team and told them the bad news. They packed everything back up and moved to and RV park in Vinton, LA. We couldn't cycle directly to Vinton because the stretch of road to get there has been under construction for years and has narrow lanes with concrete barriers on each side. The automotive parts courier thankfully warned us about this stretch, called it the gauntlet (even for cars), and gave us a safe detour with wide shoulders. So, we rerouted again, which turned our trip into a full century (100 miles).
We stopped in Deweyville, TX, reconvened with the team, and would work on our next reroute, so we could make it to Rutherford Beach.