Dave and Jesse have chosen the Southern Tier of the US from San Diego, CA to St. Augustine, FL as the route for Roads to Giving's epic coast to coast bike tour. This route covers approximately 3,000 miles and requires over 40,000 feet of elevation gain. The scenery should include seashores, mountains, ranch lands, wildflowers, bayous, and citrus groves.
Dave and Jesse climb out of San Diego and head toward the Arizona border, Tucson, Tombstone, and the Chiricahua Mountains before taking on their 3rd state, New Mexico (Land of Enchantment). Then, they are on to Texas where they will ride 1/3 of their tour crossing Texas at its widest part. They will ride the flat ranches of western Texas, the Texas Hill Country (just outside of Austin), and on to the rolling hills of east Texas. From there, it's a few days of riding across Louisiana, and hopefully time to enjoy some Cajun cooking. Dave and Jesse will cross the boot heels of both Mississippi and Alabama, then take a ferry across Mobile Bay to enter Florida's panhandle. North Florida has a varied landscape of strawberry fields, lush Live Oaks, horse farms, small college towns and orange groves, as they move toward the coast.
Check below to see the planned daily itinerary and to see where Dave and Jesse are currently along the route.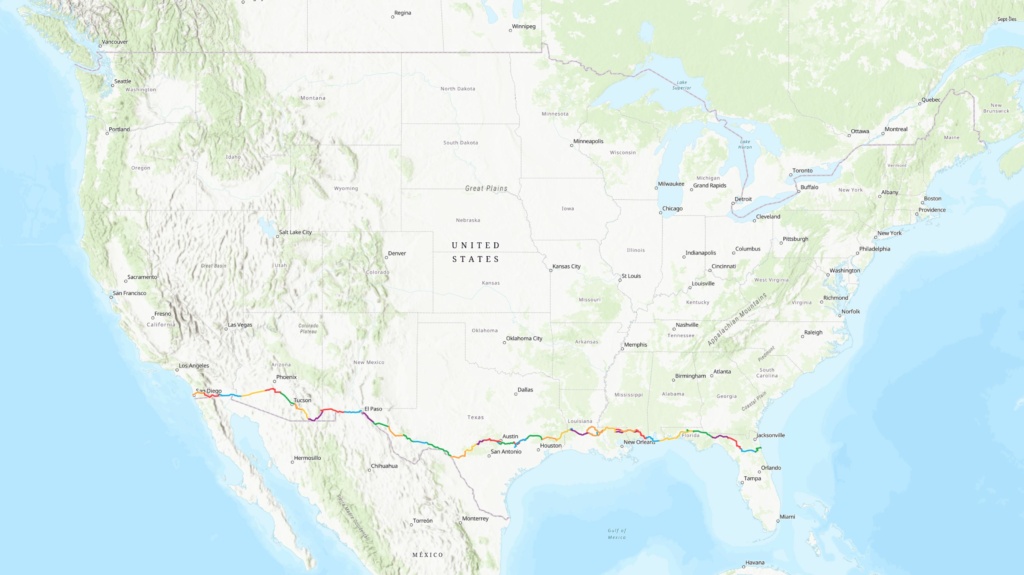 Date
Start - End
Distance
Estimated Time
Total Distance
Average Distance
Day 1


Sunday, March 12, 2023

San Diego, CA (Dog Beach) - Pine Valley, CA
53
4h4m
53
53
Day 2


Monday, March 13, 2023

Pine Valley, CA - El Centro, CA
81
6h13m
134
67
Day 3


Tuesday, March 14, 2023

El Centro, CA - Wellton, AZ
97
7h27m
231
77
Day 4


Wednesday, March 15, 2023

Wellton, AZ - Gila Bend, AZ
88
6h46m
319
79.75
Day 5


Thursday, March 16, 2023

Gila Bend, AZ - Casa Grande, AZ
74
5h41m
393
78.6
Day 6


Friday, March 17, 2023

Casa Grande, AZ - Tucson, AZ
84
6h27m
477
79.5
Day 7


Saturday, March 18, 2023

Rest Day
0
0h0m
477
68.14
Day 8


Sunday, March 19, 2023

Tucson, AZ - Benson, AZ
66
5h4m
543
67.88
Day 9


Monday, March 20, 2023

Benson, AZ - Bisbee, AZ
51
3h55m
594
66
Day 10


Tuesday, March 21, 2023

Bisbee, AZ - Rodeo, NM
77
5h55m
671
67.1
Day 11


Wednesday, March 22, 2023

Rodeo, NM - Columbus, NM
93
7h9m
764
69.45
Day 12


Thursday, March 23, 2023

Columbus, NM - El Paso, TX
78
6h0m
842
70.17
Day 13


Friday, March 24, 2023

Rest Day
0
0
842
69.46
Day 14


Saturday, March 25, 2023

El Paso, TX - Ft. Hancock, TX - Van Horn, TX
120
7h20m
976
69.71
Day 15


Sunday, March 26, 2023

Van Horn, TX - Ft. Davis, TX
81
6h13m
1057
70.47
Day 16


Monday, March 27, 2023

Rest Day
0
0h0m
1057
66.06
Day 17


Tuesday, March 28, 2023

Ft. Davis, TX - Marathon, TX
54
4h9m
1111
65.35
Day 18


Wednesday, March 29, 2023

Marathon, TX - Sanderson, TX
54
4h9m
1165
64.72
Day 19


Thursday, March 30, 2023

Sanderson, TX - Del Rio, TX
119
9h9m
1284
67.58
Day 20


Friday, March 31, 2023

Del Rio, TX - Camp Wood, TX
80
6h9m
1364
68.2
Day 21


Saturday, April 1, 2023

Camp Wood, TX - Kerrville, TX
80
6h9m
1444
68.76
Day 22


Sunday, April 2, 2023

Kerrville, TX - Fredericksburg, TX
37
2h50m
1481
67.32
Day 23


Monday, April 3, 2023

Fredericksburg, TX - Austin, TX
88
6h46m
1569
68.22
Day 24


Tuesday, April 4, 2023

Rest Day
0
0h0m
1569
65.38
Day 25


Wednesday, April 5, 2023

Rest Day
0
0h0m
1569
62.76
Day 26


Thursday, April 6, 2023

Rest Day
0
0h0m
1569
60.35
Day 27


Friday, April 7, 2023

Rest Day
0
0h0m
1569
58.11
Day 28


Saturday, April 8, 2023

Rest Day
0
0h0m
1569
58.11
Day 29


Sunday, April 9, 2023

Rest Day
0
0h0m
1569
58.11
Day 30


Monday, April 10, 2023

Austin, TX - La Grange, TX
75
5h46m
1644
58.71
Day 31


Tuesday, April 11, 2023

La Grange, TX - Navasota, TX
67
5h9m
1711
59
Day 32


Wednesday, April 12, 2023

Navasota, TX - Cleveland, TX
75
5h46m
1786
59.53
Day 33


Thursday, April 13, 2023

Cleveland, TX - Port Arthur, TX
90
6h46m
1855
59.84
Day 34


Friday, April 14, 2023

Port Arthur, TX - Rutherford Beach, LA
76
5h50m
1931
60.34
Day 35


Saturday, April 15, 2023

Rutherford Beach, LA - Lafayette, LA
105
7h0m
2086
61.16
Day 36


Sunday, April 16, 2023

Lafayette, LA - Baton Rouge, LA
72
5h32m
2090
61
 
 
 
 
 
 
Day 37


Monday, April 17, 2023

Baton Rouge, LA - New Orleans, LA
100
7h41m
2190
61
Day 38


Rest Day

Rest Day
0
0h0m
2190
59
 
 
 
 
 
 
Day 39


Wednesday, April 19, 2023

New Orleans, LA - Bay St. Louis, MS
62
4h46m
2252
58
Day 40


Thursday, April 20, 2023

Bay St. Louis, MS - Biloxi, MS - Dauphin Island, AL
100
2h55m
2321
57
Day 41


Friday, April 21, 2023

Rest Day
0
0
2360
58
Day 42


Saturday, April 22, 2023

Rest Day
0
0h0m
2360
56
Day 43


Sunday, April 23, 2023

Rest Day
0
0h0m
2360
55
Day 44


Monday, April 24, 2023

Dauphin Island, AL - Gulf Shores, AL
25
1h55m
2385
54
Day 45


Tuesday, April 25, 2023

Rest Day
0
0h0m
2385
53
Day 46


Wednesday, April 26, 2023

Rest Day
0
0h0m
2385
52
Day 47


Thursday, April 27, 2023

Gulf Shores, AL - Holt, FL
75
5h46m
2460
52
Day 48


Friday, April 28, 2023

Holt, FL - Chipley, FL
86
6h36m
2546
53
Day 49


Saturday, April 29, 2023

Chipley, FL - Tallahassee, FL
98
7h32m
2644
54
Day 50


Sunday, April 30, 2023

Rest Day
0
0h0m
2644
53
Day 51


Monday, May 1, 2023

Tallahassee, FL - Live Oak, FL
76
5h50m
2720
53
Day 52


Tuesday, May 2, 2023

Live Oak, FL - High Springs, FL
78
6h0m
2798
54
Day 53


Wednesday, May 3, 2023

High Springs, FL - East Palatka, FL
70
5h23m
2868
54
Day 54


Thursday, May 4, 2023

East Palatka, FL - St. Augustine, FL
43
3h18m
2911
54